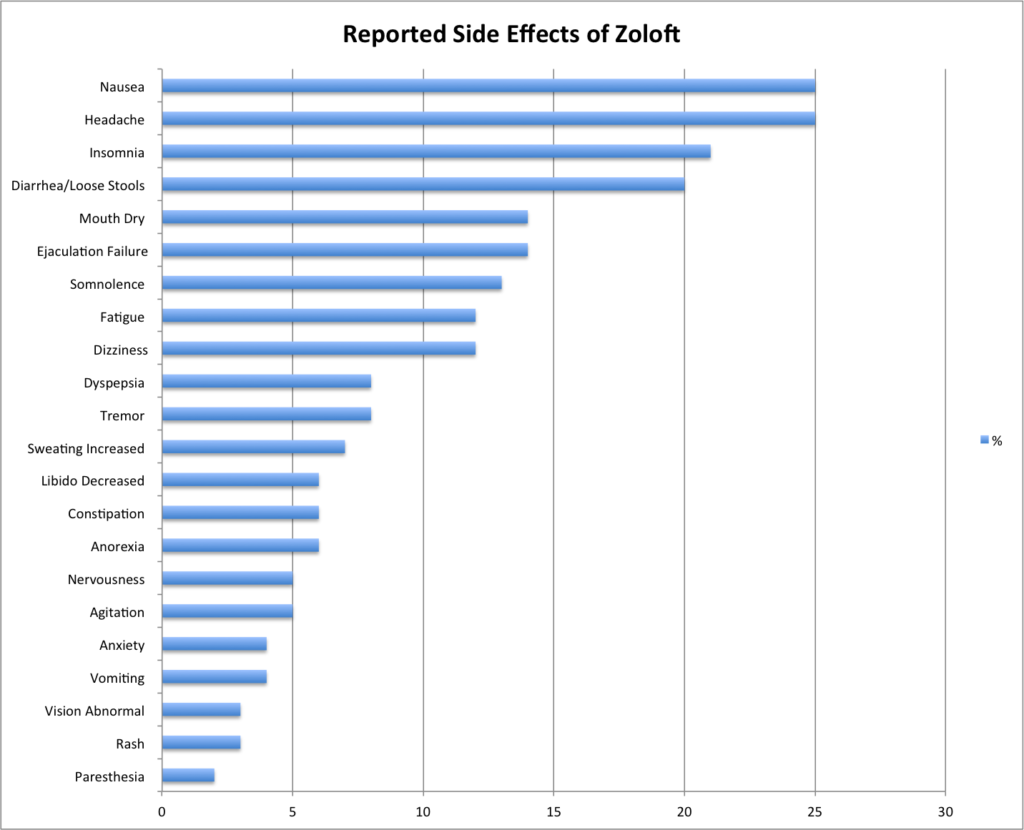 My doctor prescribed me Zoloft a while back, and I almost immediately put on 10 pounds, and a question I've had ever since is, does Zoloft (aka Sertraline hydrochloride) cause weight gain? Well, let's find out. (And let me preface all of this by saying that–as Jon Lajoie would put it–I'm just a regular everyday normal guy, not a doctor or scientist or whathaveyou; and I'm not giving advice, just dispensing wisdumb.)
General info
Zoloft's chemical name is (1S-cis)-4-(3,4-dichlorophenyl)-1,2,3,4-tetrahydro-N-methyl-1-naphthalenamine hydrochloride. It has a molecular weight of 342.7 and is most often supplied as a scored tablet in either a 25, 50 or 100 mg dose. In it's tabular form, it can contain the following inactive ingredients: dibasic calcium phosphate dihydrate, D & C Yellow #10 aluminum lake, FD & C Blue #1 aluminum lake, FD & C Red #40 aluminum lake, FD & C Blue #2 aluminum lake, hydroxypropyl cellulose, hydroxypropyl methylcellulose, magnesium stearate, microcrystalline cellulose, polyethylene glycol, polysorbate 80, sodium starch glycolate, synthetic yellow iron oxide, and titanium dioxide. There is also a (less common) liquid form of Zoloft–presumably for people with allergies to one or more of the above inactive ingredients. The liquid version includes the following inactive ingredients: glycerin, alcohol (12%), menthol, and butylated hydroxytoluene (BHT).1
Studies have found Zoloft effective in the treatment of major depression, OCD, panic disorder, social anxiety disorder, PMDD and PTSD. Sertraline works by blocking the uptake of serotonin into human platelets (In short, it's an SSRI). It is widely prescribed because it has fewer and less severe side effects and interactions than many other drugs. It is also not particularly prone to abuse since it takes about a week to achieve steady-state plasma levels. Effectiveness of Zoloft has been measured via the Liebowitz Social Anxiety Scale (LSAS), the Clinical Global Impression of Improvement (CGI-I), the Duke Brief Social Phobia Scale (DBSPS), and the Marks Fear Questionnaire Social Phobia Subscale (FQ-SPS), inter alia (See fn. 1).
Contraindications
If you have liver problems, Zoloft could be dangerous since it would likely take the drug longer to leave your body and could therefore build up to unsafe levels. Studies have shown that children metabolize sertraline more effectively than adults, so they would likely need smaller or less frequent doses (since their bodies absorb more of each dose than an adult's). Zoloft should not be taken by people who are on MAOIs or pimozide. Zoloft's liquid version should not be taken by people who are on disulfiram (Ibid).
Side effects
Possible side effects, according to Pfizer, include mania/hypomania, weight loss, weak uricosuric effect (you might get kidney stones), hyponatremia (low blood sodium levels–a concern for me, since I run for hours at a time in the Florida heat), abnormal bleeding or purpura (Pfizer seems to dispute this one). Studies have shown decreased fertility and increased infant mortality in mice, rats and rabbits when they were administered high doses of sertraline when attempting to become pregnant or while pregnant. Sexual dysfunction and priapism are a possible side effect of any SSRI  (Ibid).
Premarketing studies of Zoloft categorized the following side effects as "frequent": impotence, palpitations, chest pain, hypertonia (tense muscles), hypesthesia (numbness), increased appetite, back pain, asthenia, malaise, weight increase, myalgia (muscle soreness), yawning, other male sexual dysfunction, other female sexual dysfunction, rhinitis, tinnitus, micturition frequency, polyuria, urinary retention, dysuria, nocturia, and urinary incontinence. Pfizer refers to this kind of stuff as "adverse events temporally associated with Zoloft", because the reality is this is just a laundry list of every single negative experience anyone taking Zoloft during a given study experienced during that time regardless of causality (Ibid).


In addition to the possible side effects of taking Zoloft, if one were to discontinue Zoloft there would of course be additional potential side effects. The below table shows the statistically significant ones as reported by Pfizer.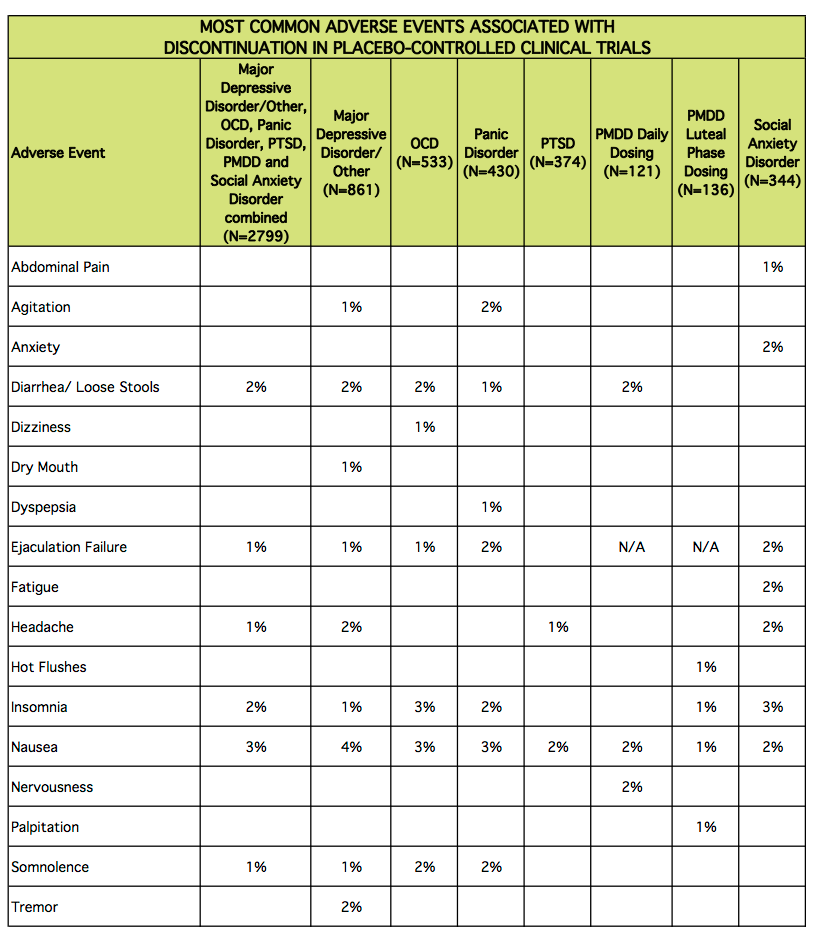 So, does Zoloft cause weight gain?
Most of the above relies on a document (re fn. 1) that Pfizer and the FDA agreed upon. Now, I don't particularly trust either organization, but they do have quite a bit of research on their side. So, according to their own findings, does Zoloft cause weight gain? No. In fact, it may even cause weight loss. That said, according to Pfizer's premarketing research, weight gain is frequently "temporally associated with Zoloft," for what it's worth.
MentalHealthDaily.com speculates that a combination of "increased carbohydrate cravings, metabolic adjustments, as well as standard medication side effects such as lethargy" lead to weight gain for people taking Zoloft. MHD's piece on the subject seems largely anecdotal though. The Mayo Clinic has an article on antidepressant-induced weight gain: It pretty much dismisses it by pointing out that depressed and anxious people often have unhealthy eating patterns.
A 2000 study of SSRI-induced weight gain looked at three drugs (sertraline, fluoxetine and paroxetine) and only found one of them to significantly affect weight; and the one with a significant positive correlation was paroxetine. Unfortunately, as is often the case with these studies, sample sizes were small (sertraline, N = 48; fluoxetine, N = 44; paroxetine, N = 47). Also, 'significance' is perhaps in the eye of the beholder and appears to have been defined as a 7% change in weight for this study's purposes (a 10.5 lb or 4.8 kg gain/loss for a 150 lb / 68 kg person).2
A 2003 paper on long-term side effects of SSRI treatment, including "treatment-emergent weight gain," listed "recovery from depression or clinical improvement, appetite increase or carbohydrate craving, and changes in 5-HT2C receptor activity" as "possible mechanisms for SSRI-induced weight gain."3
A 2009 prospective study that looked at the effects of fluoxetine and sertraline on thyroid function and thyroid autoimmunity concluded that the drugs did not have a negative effect on thyroid function.4
Solutions
Livestrong.com has a nice little article on how to lose weight while on Zoloft. It's just general advice but still helpful. The Mayo Clinic blog mentioned above, by Daniel K. Hall-Flavin, M.D, suggests healthy eating and exercise to treat weight gain regardless of the cause. Andrew Weil, M.D., suggests the same and goes into more detail about what kind of exercise you should do and what foods to eat. A 2002 study found Topiramate, an anticonvulsant, effective in inducing weight loss in subjects complaining of SSRI-induced weight gain.4
The 2003 paper quoted above also provides suggestions, listing topiramate and sibutramine as possible adjunctive medications to moderate weight change in SSRI users. The researcher also suggests improving one's diet, increasing exercise and/or switching medications. He concludes by noting that there is a stronger positive correlation between "improvement in depressive symptoms [and] weight loss" than between any one treatment regimen and weight gain. In other words, your weight gain is more likely a psychosomatic symptom than a pharmacological one (See fn. 3).
Conclusion
Based on all of the above, it looks to me like the most likely catalyst for unwanted weight change in SSRI users is psychological and the best treatment is a more dialed-in diet and exercise regimen. My doctor came to the same conclusion, telling me that the amount of Zoloft I am on is a "baby dosage" and very unlikely to cause any significant symptoms. So, if you've gained weight on an SSRI, it's probably because you're either eating more or exerting yourself less or both. In my case, it's the former.
The evidence for a causal link between SSRI treatment and unwanted weight change is limited and largely anecdotal. A couple of the papers I read, especially the 2003 one (fn. 3), note that the amount of annual weight gain reported by many SSRI users is about the same as the amount of weight the average American puts on every year of their adult life ( ≈ 3 lb / 1.35 kg).
I admit I was hoping to find a causal relationship between Zoloft consumption and weight gain. I was also hoping to learn of a magic pill to reverse this effect. Since neither of those panned out, I'm going to try eating more fruits, vegetables, nuts and beans and fewer simple carbs and meats. Hopefully that will make a big enough difference that I will return to a BMI with which I am comfortable.
Wish me luck. And good luck to you.
1. Pfizer Inc. (2002). FDA approved labeling for zoloft® for the treatment of social anxiety disorder attachment to FDA approval letter for NDA 19-839/S-045: ZOLOFT (sertraline hydrochloride) tablets and oral concentrate; 69-4721-00-4.2. US FDA Approval Letters 2002, 1–35. http://www.fda.gov/ohrms/dockets/ac/04/briefing/4006b1_06_zoloft-label.pdf↩
2. Fava, M., Judge, R., Hoog, S.L., Nilsson, M.E., & Koke, S.C. (2000). Fluoxetine versus Sertraline and Paroxetine in major depressive disorder: changes in weight with long-term treatment. The Journal of Clinical Psychiatry, 61(11), 863-867.https://www.psychiatrist.com/JCP/article/Pages/2000/v61n11/v61n1109.aspx↩
3. Hirschfeld, R.M.A. (2003). Long-term side effects of SSRIs: sexual dysfunction and weight gain. The Journal of Clinical Psychiatry, 64[suppl 18], 20–24http://www.kalbemed.com/Portals/6/komelib/central%20nervous%20system/Psikiatri/Fluoxetine/long%20term%20side%20effect%20ssri.pdf↩
4. de Carvalho G.A., Bahls S.C., Boeing A., Graf, H. (2009). Effects of selective serotonin reuptake inhibitors on thyroid function in depressed patients with primary hypothyroidism or normal thyroid function. Thyroid, 19(7), 691-697. PMID: 19583486 DOI: 10.1089/thy.2008.0261. http://www.ncbi.nlm.nih.gov/pubmed/19583486↩
5. Ameringen, M.V., Mancini, C., Pipe, B., Campbell, M., & Oakman, J. (2002). Topiramate treatment for SSRI-induced weight gain in anxiety disorders. The Journal of Clinical Psychiatry, 63(11), 981-984. http://www.psychiatrist.com/jcp/article/Pages/2002/v63n11/v63n1104.aspx↩