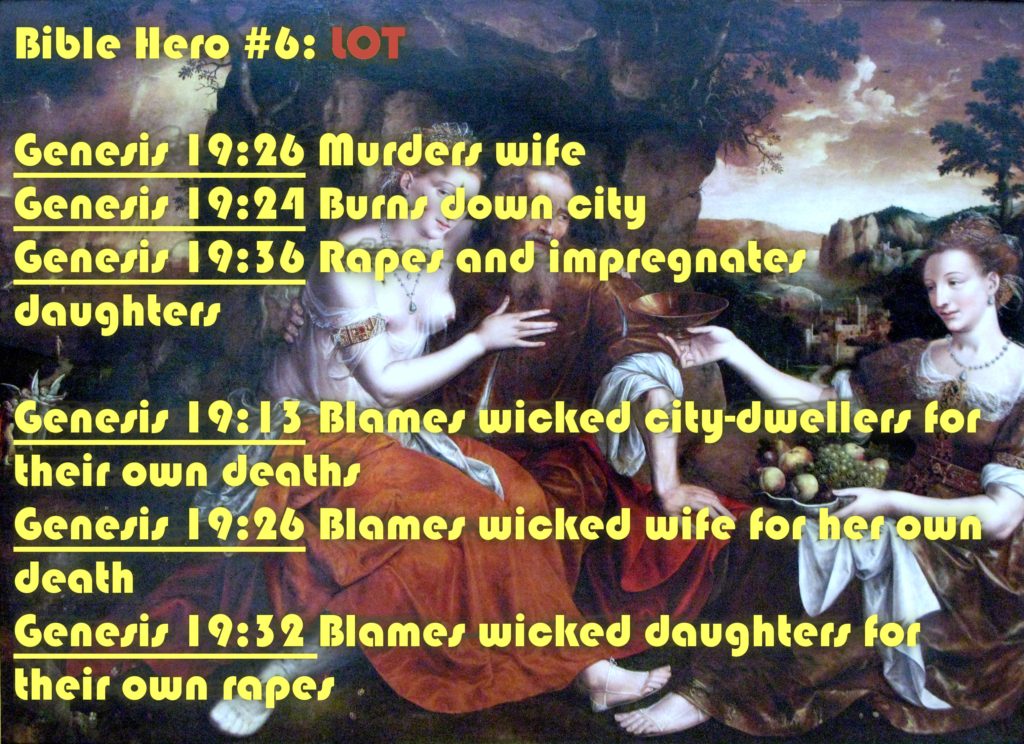 During the run up to the 2016 U.S. presidential election, political pundits, comedians and others made sport of implying that Donald Trump either wanted to fuck his daughter, Ivanka Trump, or already had.1 2 3 GIFs of Trump's daughters spurning his embraces, and video clips of him ogling them and referring to them as sex objects, circulated widely. While I didn't think he had fucked them–and couldn't possibly like him any less if he had–I couldn't help but wonder: Why would Donald Trump want to fuck his daughter? Why would any father? So I Googled it. 
Below, I examine father-daughter incest. I begin with a discussion of typology–that is, the categories into which researchers and others have divided incestuous fathers. Next, I discuss etiology–which is to say, the question of why some men commit incest while others do not. Finally, I end with an analysis of father-daughter incest in general and as it relates to the question after which this article is titled. The analysis is kinda the TL;DR version of this article, so you can CLICK HERE to skip ahead to it if you want.
a typology of father-daughter incest
In a 1992 paper, two University of New Hampshire professors, Linda M. Williams and David Finkelhor, studied a number of men who admitted to sexual contact with their daughters. Among other things, they found a "bimodal age distribution" in the onset of abuse, concluding members of their cohort most often began abusing a daughter between the ages of 4-7 or 10-12. Another thing they found was that, for some of the men, sex was a primary purpose of the incest while, for others, it was a means to some other end. They also noted that, for those of the men who were physically attracted to the daughter, while some reported attraction leading to the incest (63%), others reported only becoming attracted to the girl after "onset" of incest.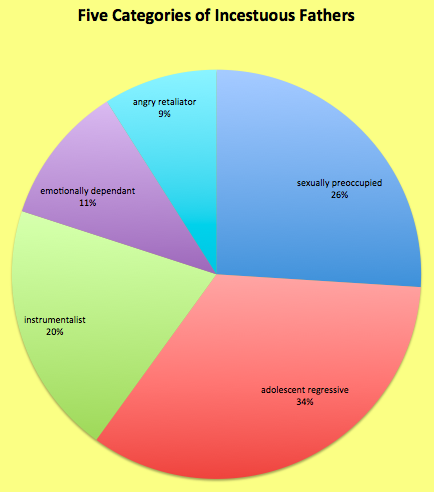 In addition, they noted the men fell into the following five categories.4
Sexually preoccupied – These men are obsessed with fucking their daughters and often become attracted to the daughter while she is very young, even just days old. They are not just obsessed with fucking the daughter though; they are highly sexual and pretty much will fuck anything that moves. They comprised roughly 26% of the cohort.
Adolescent regressives – Making up about 34% of the research cohort, these guys also view their daughters as sex objects, but the attraction doesn't start until puberty. Their infatuation with the daughter's developing body is similar to a young teenage boy's fascination with his female classmates' changing bodies.
Instrumental sexual gratifiers – To these men, their daughters are objects of sexual convenience rather than of sexual attraction. Bluntly, they see the daughter as not a person but the nearest warm body. These guys are the most likely to feel guilty about what they've done; so maybe we should call them the Deniers instead, since it's entirely possible they are as attracted to their daughters as the rest and are simply too ashamed of themselves to admit it. Regardless, they made up 20% of the cohort.
Emotionally dependent – Picture a depressed and lonely loser yearning for any human contact. For this group, "abusive intimacy" and over-enmeshment precedes incest. An example from the study: "[A] father rhapsodized that he was intent on loving his 5-year-old daughter like he should have been loved by his father. 'I wanted to give her all the love and attention she needed…The closeness was very good and loving and it turned sexual. …When she came over for the weekend, it became a relationship, it was companionship; I had been alone for six months. … We slept together and would fondle each other.'" These guys made up about 11% of the group.
Angry retaliators – I'm not sure it's possible to pick a "worst of the worst" out of these five types of daughter-fuckers; but, if it were possible, this group would probably be my pick. Like the instrumentalists and the emotionally dependents, these guys aren't actually attracted to their daughters. They fuck their daughters as a roundabout way of punishing their wives for perceived neglect or mistreatment; or, alternatively, as a way to punish the daughter for replacing them as the most important person in the wife's life. Of the five categories, these men are the most likely to describe their conduct as "rape." They comprised around 9% of the cohort.
6. gsa
"Love is born of resemblance." ~ Marquis de Sade, La Philosophie Dans le Boudoir
Of course, the above categories are generalizations. Not every daughter-fucker fits neatly into one of these groups. For instance, all of the above men are effectively pedophiles (or hebephiles or ephebophiles). But what of men who first become attracted to a daughter in her adulthood? I couldn't find much on this–probably because this type of incest is less socially problematic and therefor less reported on and studied. I did, however, find one example of this in a less common type of incest purportedly resulting from genetic sexual attraction (GSA).
According to Barbara Gonyo, founder of Truth Seekers in Adoption, genetic sexual attraction is a strong romantic attraction between relatives (often parent-child or siblings) who were separated when one or both were very young and are reunited as adults. Gonyo herself experienced this between her and her son whom she'd given up for adoption at birth and was reunited with when he was in his mid-twenties.5
Back in 1995, two University College London researchers, Maurice Greenberg and Roland Littlewood, investigated numerous cases of relatives reuniting after being separated at birth and concluded that such reunions result in GSA as much as 50% of the time. That is not to say that every other reunion results in incest, just that as many as every other reunion might result in feelings of sexual attraction on the part of at least one of the parties.6 
Well, that's pretty much the extent of what I could find on common types of incestuous fathers. But the point of this inquiry is the question of why, not who; and, while the above typology helps us understand what motivates men to have sex with their daughters, it doesn't shed any light on what predisposes them to this behavior. I mean, plenty of fathers are lonely sacks of shit, but few seek solace in a child's body. Many men resent their wives, but few would seek to punish her by raping their daughter. The question then is why do some men commit incest while others don't?
On to etiology.
an etiology of father-daughter incest
Williams & Finkelhor noted in their paper on incest (cited above) that "as many as one in six girls are incestuously abused and one in 20 girls may suffer sexual abuse by a father" (citing Dr. Diana E. H. Russell's 1986 book The Secret Trauma). As to what inclines men to have sex with their children, they describe seven theories, addressing each based on their study's findings. The theories addressed are bonding/empathy failure, sexualization of emotional expression, sexualization of dominance, early sexual victimization, alcoholism, deviant socialization, and marital problems.
Bonding/empathy failure – This theory holds that a "biobehavioral process" prevents parents from seeing their children as sex objects. The authors cite previous research showing that men who sexually abuse their children tend to have had little involvement in caring for the child. This actually brings us back to our discussion of GSA. Many GSA sufferers explain their predicament via the so-called Westermarck effect: a hypothesis in psychology that being close to someone when they are a baby–or, conversely, when you are a baby–causes "negative sexual imprinting." Since the majority of folks who experience GSA were separated when one or both were very young, they argue that this mechanism was never allowed to work its inhibitory magic on them.7 8
Sexualization of emotional expression – The idea here is that little girls are socialized to explore and express their feelings for and with others, while little boys are taught to keep their feelings to themselves. Boys don't start opening up emotionally until they start dating girls who require it of them. Since such relationships tend to be or become sexual, males learn to associate emotional expression with sex.
Sexualization of dominance – According to the authors, this theory asserts that "sexual behavior toward children is legitimated by a cultural value system which eroticizes youthfulness, smallness and dependency/vulnerability. […] It is possible that those men who become sexual with children are more likely to hold attitudes and beliefs which endorse such child-like characteristics as sexually attractive and arousing."
Early sexual victimization – This one is pretty obvious. People who were sexually abused as children are more likely to sexually abuse children. Prior studies, cited by Williams & Finkelhor, suggested that anywhere from 18% – 57% of child molesters were themselves victims. The current study found that 70% of its cohort reported sexual victimization in childhood. One in 8 reported sexual abuse by a mother, and 1 in 10 reported sexual abuse by a father or father figure.
Alcoholism – Previous studies reported 19%-49% of child molesters abused alcohol. However, Williams & Finkelhor found no significant correlation between alcoholism and incest. That said, their findings did show some incestuous fathers consumed alcohol or drugs prior to abusing their daughters, perhaps in order to lower their own inhibitions in order to carry out the sex act.
Deviant socialization – This is the old "pornography creates sex criminals" train of thought. Russell (cited above) is an adherent of this theory.
Marital problems – Studies preceding this one presented qualitative data suggesting that "disappointments and trauma in adult family life and adult heterosexual relationships may trigger pedophilic activity." The study in question found that 46% of incestuous fathers reported a troubled marriage, 35% reported problems in the marital bedroom, and 19% admitted to physically abusing their wives.
Williams & Finkelhor's research did not necessarily bear out all of the above. Instead, they found that the men most likely to have sex with their daughters are men who suffered severe abuse (not necessarily sexual) at the hands of their own parents. 54% of the cohort were abused by their fathers, 37% by their mothers. Parental rejection/neglect was also a major predisposing factor. 28% of the cohort were rejected by their fathers, 66% by their mothers. As previously noted, sexual abuse in childhood is common among incestuous fathers, and 72% of the study's cohort reported childhood sexual abuse (not necessarily by a parent). Childhood sexual offenses are also predictive. That is to say, men who committed rape before the age of 18 made up 33% of the cohort. 43% of the incestuous father cohort reported low involvement in childcare, especially in the first six years of life. The researchers warn that lack of involvement in caregiving might simply be a symptom of some other causative factor (e.g. parental rejection in childhood) rather than a predisposing factor in and of itself. That said, they conducted further analysis and concluded that low involvement is predictive independent of other factors. An odd finding was the relationship between caregiving and incest. High paternal involvement in childcare was found to protect against incest; and, as just discussed, low involvement was found to be an incest risk factor. However, sole caregiving (defined as 30 days or more uninterrupted as lone caregiver) increased the likelihood of eventual incest. The researchers concluded that caregiving has some inhibitory effect but that it is weak and provides little protection against incest when other risk factors are present. Also, some men use caregiving as an opportunity to groom a child for incest.
mating strategies are an adaptive behavior functioning in present but shaped in the past (BE)
analysis
analysis
1. Al-Othman, H. (2016, October). Thanks dad: The moment Ivanka flashes a look of horror at father Donald after he jokes that the only thing they have in common is 'sex' during 2013 interview. Daily Mail. Retrieved from http://www.dailymail.co.uk/news/article-3870754/The-thing-common-sex-Bizarre-interview-Donald-Ivanka-Trump-resurfaces-three-years-later.html↩
2. Withnall, A. (2016, October). Donald Trump's unsettling record of comments about his daughter Ivanka. The Independent. Retrieved from http://www.independent.co.uk/news/world/americas/us-elections/donald-trump-ivanka-trump-creepiest-most-unsettling-comments-a-roundup-a7353876.html↩
3. Christopher, T. (2016, April). Daily Show digs up most disturbing Donald Trump daughter clip yet. Mediaite. Retrieved from http://www.mediaite.com/tv/daily-show-digs-up-most-disturbing-donald-trump-daughter-clip-yet/↩
4. Williams, L.M. & Finkelhor, D. (1992). Characteristics of incestuous fathers. National Center on Child Abuse and Neglect (DHHS/OHDS), Washington, DC. / New Hampshire Univ., Durham. Family Research Lab. ERIC# ED354451. Retrieved from https://eric.ed.gov/?id=ED354451↩
5. Kirsta, A. (2003, May). Genetic sexual attraction. The Guardian. Retrieved from https://www.theguardian.com/theguardian/2003/may/17/weekend7.weekend2↩ 6. Greenberg, M. & Littlewood, R. (1995). Post‐adoption incest and phenotypic matching: Experience, personal meanings and biosocial implications. British Journal of Medical Psychology, Vol: 68(1), 29-44. doi: 10.1111/j.2044-8341.1995.tb01811.x↩
7. Beusman, C. (2016, June). Why can't I consent to sex with my brother?': on genetic sexual attraction. Broadly. Retrieved from https://broadly.vice.com/en_us/article/why-cant-i-consent-to-sex-with-my-brother-on-genetic-sexual-attraction↩
8. Marcinkowska, U.M., Moore, F.R., & Rantala, M.J. (2013). An experimental test of the Westermarck effect: sex differences in inbreeding avoidance. Behavioral Ecology, Vol: 24(4), 842-845. doi: 10.1093/beheco/art028. Retrieved from https://academic.oup.com/beheco/article/24/4/842/220309/An-experimental-test-of-the-Westermarck-effect-sex↩